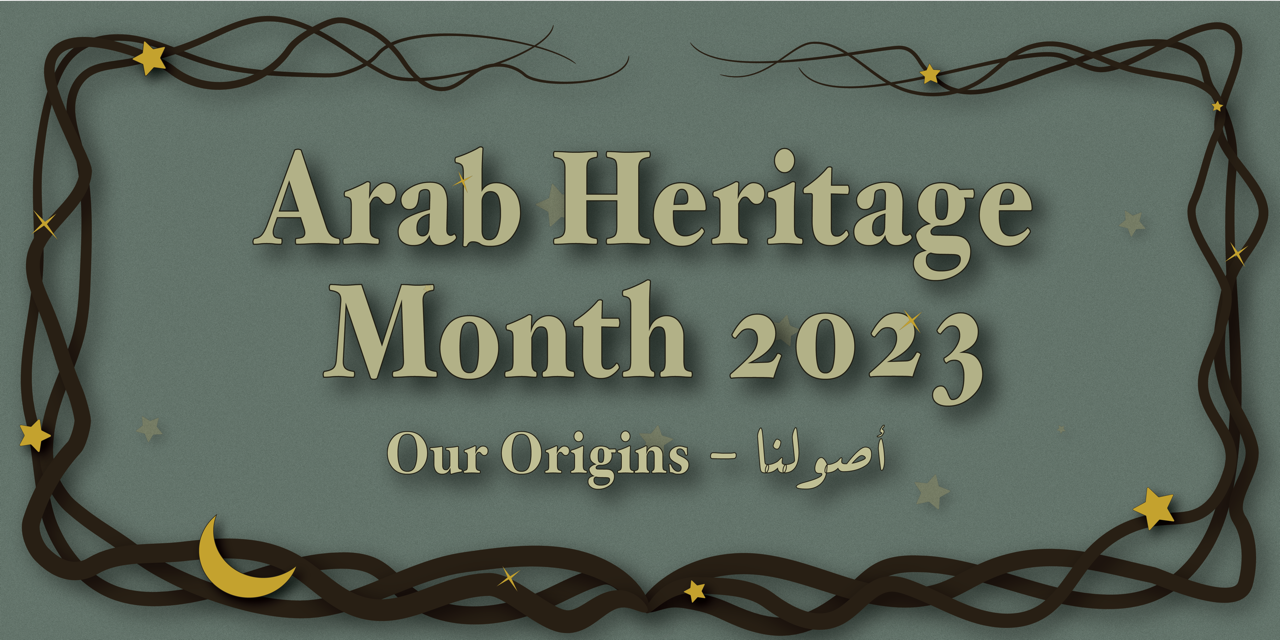 About Arab Heritage Month
Our Origins: أصولنا                                                                                                                              
The diaspora of Arab countries has a very far, and expanding global reach, with immigrants from a multitude of countries in the Middle East and North Africa finding new ways to come together and redefine unification under shared heritage. Despite being subjected to efforts of erasure, our ties to our origins remain untarnished. Our roots still extend deeply into the soil that our ancestors walked upon, and cultivated nations of resilience and benevolence around. Be it the language, food, or music that unites us, we will always discover new ways to come together, hand in hand, challenging anything that wishes to divide us, or disconnect us from our origins. 
This Arab Heritage month, we are honoring the stronghold of our communities, rooted in the legacies that our ancestors planted. Following in the footsteps of Arabs who took major strides in arts, science, and civilization, we continue to create a name for ourselves in every space we enter. We are devoted to upholding the legacies of our homelands; and our connection to Usulana—our origins—through language, culture, and tradition is unwavering. This month, and for every month that follows, we are proud to be Arab.
Throughout the month, events will be added to the list of events below so please check back often for updates. All are invited to join us! For more information on Arab Heritage Month and regular updates, follow us on Instagram @umich_ahm.
If you have questions or further inquiries, contact Miriam Chung, chungmir@umich.edu.
---
 

Arab Heritage Month 2023 calendar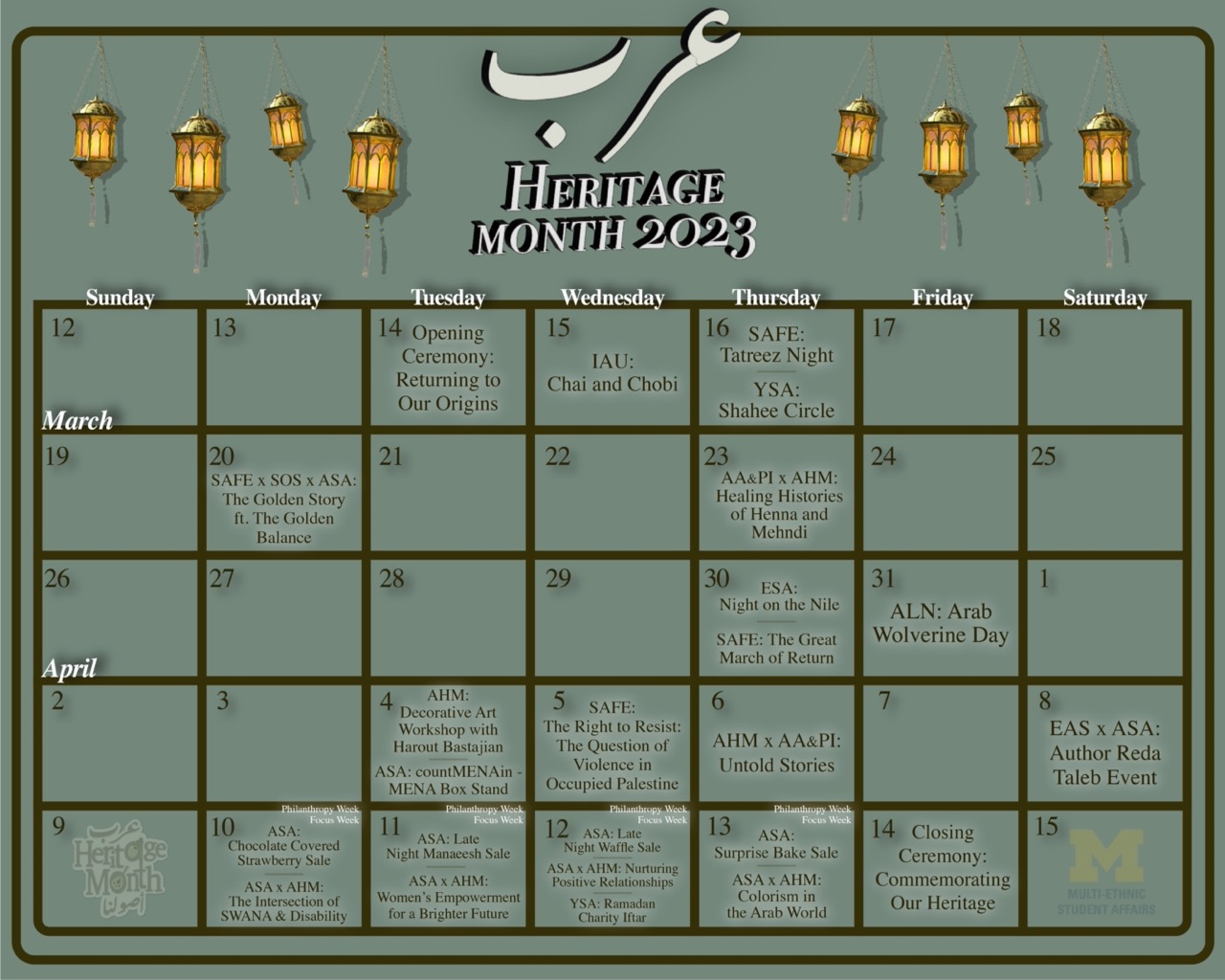 AHM Opening Ceremony: Returning to Our Origins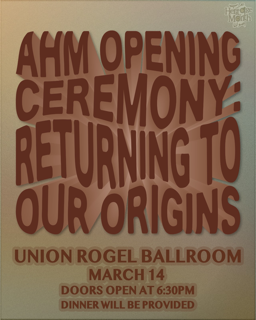 Tuesday, March 14th, 2023 | 6:30pm- 9:00pm | Register Here
Michigan Union, Rogel Ballroom - Dinner provided
The opening ceremony will be a dinner event to celebrate the beginning of the month full of events that embrace, promote, and raise awareness of the many cultural and ethnic identities within the Arab community. We are proud to announce that our keynote speaker will be Rula Kort, a representative of Anera-- American Near East Refugee Aid. Anera is an American 501 non-governmental organization that provides humanitarian and development aid to the Middle East, specifically the West Bank, the Gaza Strip, Lebanon and Jordan. During the event we will also have live entertainment, flags of the 22 countries found in the Arab World, free food and delicious desserts catered from Dearborn, MI, and a small presentation introducing AHM 2023 and events to look forward to this coming month
---
IAU: Chai and Chobi 

Wednesday, March 15th, 2023 | 7pm 
Michigan Union, Rogel Ballroom - Dinner provided
Join IAU on Wednesday, March 15 for a night showcasing the beautiful, diverse culture of Iraq. The night will include: an exclusive performance by the very talented oud player Raad Hakeem, the singing of the Iraqi national anthem Mawtini by Ousama Sukkar, delicious dinner and authentic Iraqi chai and sweets, and a special dance performance showcasing various Arab, Kurdish, and Assyrian-Chaldean cultural dances in Iraq, and much more! Admission to this event is free and open to all. Bring your friends and family and be ready for a great time!
---
SAFE: Tatreez Night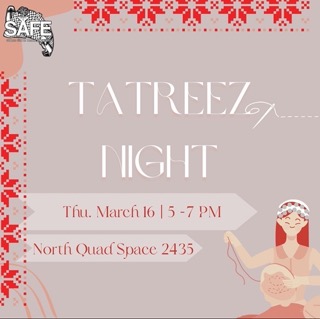 Thursday, March 16th, 2023 | 5pm-7pm 
North Quad 2435
Tatreez night is an event celebrating Palestinian art and fashion as a way of resistance and remembrance of the Palestinian culture. Showing the arts varying from each village and showing resistance against israeli occupation on Palestine. We teach everyone the history about what tatreez holds and how each design allows for identification and significance of each thobe created. Followed by a teach-in for everyone to be able to create their own tatreez and see the patience and dedication to keeping our traditions alive.
---
Yemeni Students Association: Shahee Circle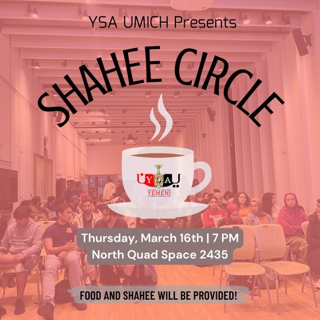 Thursday, March 16th, 2023 | 7pm
North Quad 2435 and Edward Said Lounge 
Late-night social event including Yemeni desserts and tea. allowing for a community of students to join together and play games with one another 
---
SAFE: The Golden Story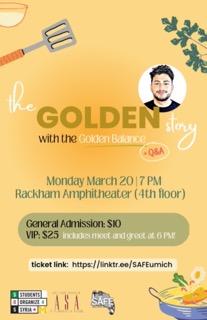 Monday, March 20th, 2023 | 7pm
Rackham Amphitheater 
Join us as Ahmad Alzahabi, more commonly known as The Golden Balance, takes us through his journey that took him from home cook to internet sensation. As well as answering any of the questions you have for him. $15 General admission & $40 for VIP which includes a meet and greet with the Golden Balance starting 6:15 PM. Exclusive merchandise will also be sold and all profits will go to White helmets to aid for all those suffering in the Syria/Turkey earthquake  as well as Islamic Relief for those in Palestine.
---
AHM X AA&PI: Healing Histories of Henna and Mehndi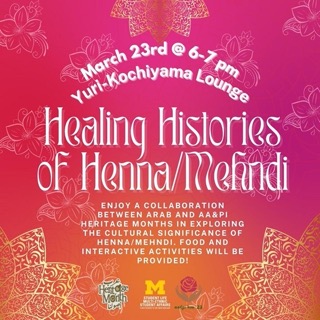 Thursday, March 23rd, 2023 | 6pm- 7pm 
South Quad Yuri Kochiyama Room 
Join us at this AA&PI Heritage Month and Arabic Heritage Month collaboration as we explore the cultural significance of Henna/Mehndi and the roles they play in self care and healing. This event will have food and interactive activities. Henna cones will be provided. 
---
SAFE: The Great March of Return 
Thursday, March 30th, 2023 | 6:30pm 
Location TBD
The Great March of Return will be recreating the march many displaced Palestinians in Jordan and Lebanon do yearly. Traveling down to the Palestinian border where they sought refuge in the country they live in, this event will be a similar recreation where we will march as if we are those Palestinians returning to the border of their homeland. The participants will be chanting Palestinian chants for the right to return and the eventual freedom of Palestine. As this event will take place during Ramadan, we will be marching before the iftar and meeting at a spot to finish the night off with the iftar. This event highlights the importance of remembering the pain and perseverance many displaced Palestinians have just to get the chance to get a glimpse of their home where they once were forced to flee. 
---
Egyptian Students Association: Night on the Nile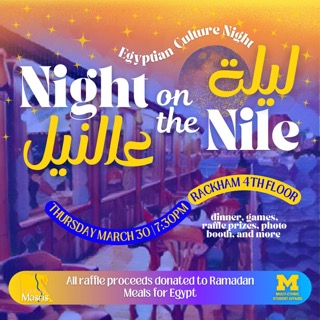 Thursday, March 30th, 2023 | 7pm 
Rackham Assembly Hall - Dinner provided 
ESA Culture Night is a cultural and philanthropic event celebrating diversity and heritage. Join us for a Night on the Nile featuring Egyptian culture and exquisite cuisine as well as a raffle supporting a good cause.
---
Arab Leadership Network: Arab Wolverine Day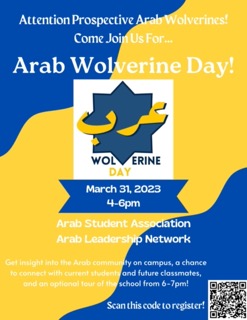 Friday, March 31st, 2023 | 4-6pm | Register here  
Edward Said Lounge 
Arab Leadership Network is excited to announce Arab Wolverine Day taking place on March 31st. Incoming freshman or transfer students are welcome to campus to have a chance to connect with fellow Arab students and learn more about the Arab community on campus! Please share this with any incoming students of Arab affiliation or interest with the link to sign up.
---
AHM: Decorative Art Workshop with Harout Bastajian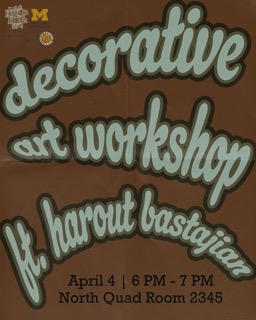 Tuesday, April 4th, 2023 | 6pm-7pm EST | Register Here 
North Quad 2435 Edward Said Lounge
Please join for a free workshop led by world renowned decorative artist, Harout Bastajian! You will have the chance to be hands-on, learning techniques such as gilding, patina, wood/marble/stone imitation, washes, technical painting, design prep and more. You will also be able to learn a little bit about Harout's work in the US, Europe, Middle East and Africa. He has executed domes and design for marquee mosques around the world including The Islamic Center of America in Michigan, Mohammad Al-Amin Mosque in Lebanon, Ilorin Mosque in Nigeria and many more. Harout Bastajian is the artist that created the mural in the Edward Said lounge. His email address is haroutbast@gmail.com 
---
The Right to Resist: The Question of Violence in Occupied Palestine 
Wednesday, April 5th, 2023 | time 
Location 
SAFE will invite UMich professor Hakem Al-Rustom to lead a seminar discussing ideas of Palestinian resistance to occupation and liberation through time and into the future. The event will be held in a UMich seminar-style classroom and will last two hours. We will display a QR code on the screen in the classroom to allow people to donate to Anera.
---
Untold Stories: AHM x AA&PI Collab Event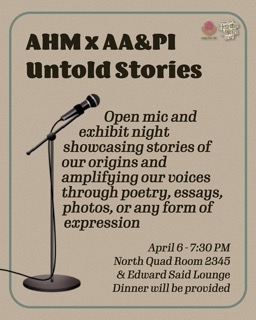 Thursday, April 6th, 2023 | 7:30pm | Register Here
North Quad 2435 and Edward Said Lounge - Dinner provided 
AHM and AAPI invite you to our open mic and exhibit night. Throughout the night, we will showcase stories submitted by community members, highlighting our origins and amplifying our voices. Join us and share with us your poetry, stories, and culture. Explore an exhibit of narrative arts, original stories and photography submitted by our community. Join us for dinner, poetry, storytelling and an exhibit of narrative arts written by the Arab-American community
AHM is collaborating with AA&PI this year to bring an open mic and exhibit night. Untold Stories is an event that will showcase stories of our origins and amplify our voices through different mediums. We are asking members of the community to submit stories, photography, and different forms of expression that relate to your identity. Below is the link to the submission form with descriptions in English and in Arabic. Share this link with your families and friends. We encourage different generations to submit their stories which is why we have provided a form in Arabic for members of the community who may find it difficult to read English. All submissions will remain anonymous unless you choose to share your name. Additionally, you will not be asked to present the story, the committee will share it on your behalf throughout the event. We are also accepting submissions of photos that capture your land of origin. They can be photos of places or people that you miss. We anticipate being able to depict connections to our diverse Arab origins through your unique perspectives.
English: https://forms.gle/RPViakAujb7fUbvR9
Arabic: https://forms.gle/E7UAURNZdeQPYZiJ8 
---
EAS X ASA Author Reda Taleb Event | Register Here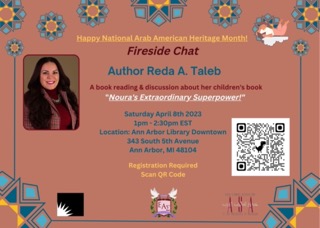 Saturday, April 8th, 2023 | 1-2:30pm 
Ann Arbor Public Library 
EAS and ASA will be hosting author and activist Reda A. Taleb, speaking about her new book "Nora's Extraordinary Superpower" taking a nuanced perspective of the challenges of having an incarcerated loved one.
---
ASA Philanthropy and Focus Week | April 10th - April 13th  

Monday, April 10th 
Philanthropy Week: Chocolate Covered Strawberry Bake Sale with Drip Too Sweet 
1:30pm - 4:30pm at Angel Hall | 9:30pm at Idea Hub
Chocolate Covered Strawberries will be sold by ASA during the day starting 1:30 pm and late at night at 9 pm in efforts to raise funds for Lebanon. Profits donated to Anera.
Focus Week: ASA X AHM: Mish Abled: The Intersection of SWANA & Disability
6:30pm -7:30pm | Edward Said Lounge
ASA and AHM is proud to invite the founder of Mish Abled to speak about the intersectionality of disability in the SWANA region. Join us for a presentation and bead jewelry making. 
---
Tuesday, April 11th 
Philanthropy Week: Late Night Maneesh Sale 
9:30pm | Idea Hub 
 
Focus Week: ASA X AHM: For the Binat: Women's Empowerment for a Brighter Future
6:30pm -7:30pm | North Quad 2435
---
Wednesday, April 12th 
Philanthropy Week: Late Night Waffle Sale 
9:30pm | Angel Hall 
Fresh waffles will be sold late at night by ASA in efforts to raise funds for Anera. 
Focus Week: ASA X AHM: Nurturing Positive Relationships
Time TBD | Rackham East Conference Room
---
Thursday, April 13th 
Philanthropy Week: Late Night Surprise 
9:30pm | Idea Hub 

Focus Week: Colorism in the Arab World 
6:30pm - 7:30pm | Rackham East Conference Room 
---
AHM Closing Ceremony: Commemorating our Heritage
Friday, April 14th, 2023 | 8:00pm | Register Here 
Trotter MPR 
Come join us in the final event concluding this year's AHM at the University of Michigan. At the Commemorating our Heritage closing ceremony, we will be enjoying delicious food, decorating tote bags, and deepening the cultural bonds within the Arab community at UM through interpersonal connections and traditional food from Dearborn, MI. 
---
Acknowledgements
Planning committee members
Miriam Chung, AHM & MESA Program Manager
Arwa Hassaballa, AHM Student Coordinator 
Zahraa Elghoul, Graphic Designer 
Ryan Mirza, Programming Team
Amina Ferris, Programming Team
Aya Sharabi, Programming Team
Maryam Shafie-Khorassani, Programming Team
Sara Hammoud, Programming Team
Alaa Alawamleh, Programming Team
Ahmed Elkhatib, Finance Team 
Leila Kassem, Finance Team